Northernridge I'm The Only One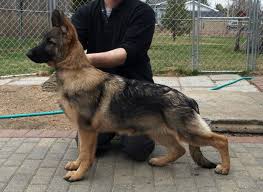 Proud owner Becca was shocked when her Chessa laid down and delivered a singleton on her own an amazingly gorgeous girl named "Aurora" was born. Also being a Hinesonhaus Northern Wolf's daughter now as a junior pup at her very first dog show got Best Of Winners, Best Puppy In Breed and Best Of Opposite and now has four points to becoming a Champion. Congratulations to both girls!
Hinesonhaus's Essence Of Power
We are just ecstatic about our darling angel "Tawny" as a junior puppy out at her very first real conformation show she totally shocked us, not only did she do it at our very own Cornwall dog show to boot but she did amazing and is now half way to her championship. A huge thank you to judges David Eadie & Mary White for highly complimenting our exquisite girl and giving her Winners, Best Of Winners, Best Of Opposite & Best Puppy In Breed, not too shabby for a junior puppy!!
Announcing "Ch. Hinesonhaus's Dark Diamond Lil"
We are truly proud of Paula & Lahra we were so blessed to be at the Cornwall Dog Show and see them finish. Congratulations to two amazing girls and watch out for a new fantastic handler!
Well they have done it again "Paula" and "Lahra" at their 2nd show are now at nine points soon to be a champion! Next time "Ch. Hinesonhaus's Dark Diamond Lil" We knew you girls would kick butt thank you so much "Paula".
We were so excited when our exquisite "Lahra" entered in her first show not only got a five point major and a Group 2 but did it with her owner/handler "Paula". We are thrilled that these two beautiful girls are going to go a long way!
Ch. Hinesonhaus's Northern Wolf
We are very proud of another fabulous grandson obtaining his championship! Our darling "Wolfy" who lives up north with his owner Becca is truly an awesome guy and a great tribute to the breed. He also has his Good Canine and would excel in obedience trials etc. Our hats off to Becca for training and handling this amazing guy to his championship and after just having her own brand new baby girl "Sydney". Another new incredible owner/handler who will be entering the ring in 2011. We look forward to it. Congratulations Becca and well done!!
Our ruggedly handsome boy "Hinesonhaus Beowulf Hunter" is a true gentleman and adores his owner Mo'Reen and pictured at 18 months he currently has 6 points towards his championship we are very proud of them as Mo'Reen is handling him herself.
YOU GO GIRL, WE ARE SO PROUD OF OUR OWNER/HANDLERS!!
German-Shepherd-top-quality-home-raised-puppies-&-adults!
hinesonhaus@live.ca
This web site is designed and maintained by Hinesonhaus. Nothing from this site can be copied, transferred or used
elsewhere without the direct permission of the site owner.